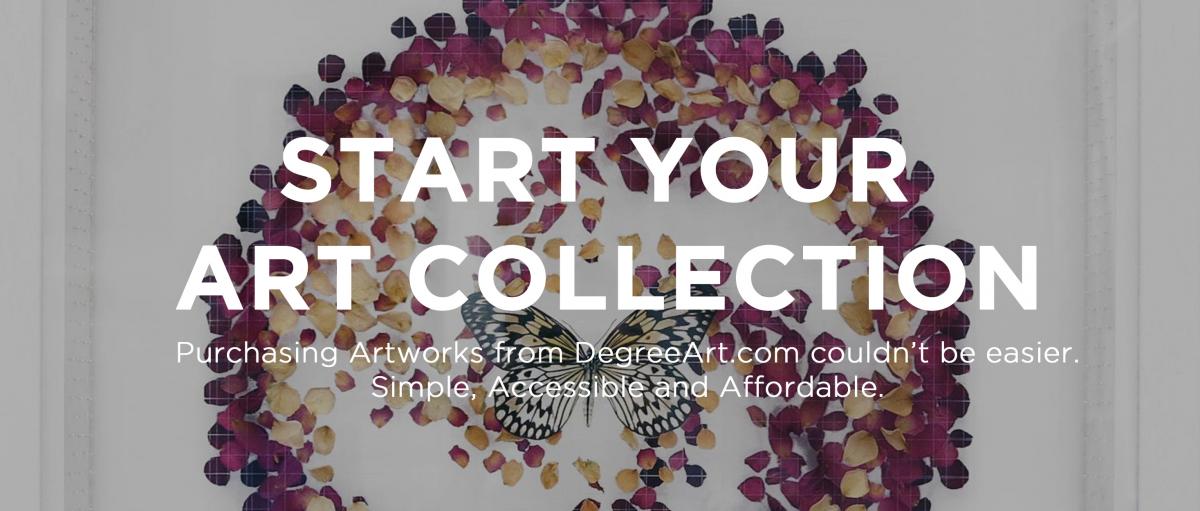 PURCHASING ARTWORK FROM DEGREEART.COM
Simple, Accessible and Affordable
1)   Choose how you wish to browse, either click on the following images to take you to a different section of the website, click the All Art tab or use the search bar at the top of the page
2)   As you identify pieces you would like to purchase, add them to your Shopping Cart
3)   Login or Register to complete your purchase securely online or call us on 020 8980 0395 to pay over the phone or find out about Pay by Finance 
-       For International Orders please checkout as above and we will contact you to take payment for delivery
4)   An invoice will be sent to your email address confirming your purchase
5)   Once your funds have cleared our account, your artwork will be dispatched with a Certificate of Authenticity
100% Satisfaction Guaranteed
Try our 14 day trial at home, money back guarantee
Buy from us, live with your chosen artwork for two weeks and if you are not entirely happy, return it to us in the same condition it arrived and you will be fully refunded for the artwork.
Book a 'No Obligation' Viewing at the Gallery
We welcome all viewing enquiries. You can select the pieces of work you would like to see in person before buying and make an appointmemt to visit the gallery. Our sales team will be delighted to arrange this with you. Call us on 020 8980 0395 or email your selection of artwork to Chantelle@DegreeArt.com. Please allow 3-5 for the artwork to be called in (although often it can be arranged quicker). There is no obligation to purchase at the viewing.
Delivery
UK Priority Delivery 2 – 3 working days
UK Standard Delivery 3 – 5 working days
International Delivery 5 - 10 working days
Collection can be arranged where requested from the gallery in East London
Payment
We accept the following payment methods:
Credit/ Debit Card 
Cheque
BACS payment (Bank Transfers)
Cash
PayPal
Interest Free Own Art Loan
 
Own Art Loan
The Own Art scheme is designed to make it easy and affordable for everyone to buy contemporary works of art and craft including paintings, photography, sculpture, glassware and furniture.
You can borrow from as little as £100 up to £1000 and pay the loan back in 10 monthly instalments - interest free.*
* Typical 0% APR
Offer subject to age and status. Terms and conditions apply. Own Art is operated by ArtCo Trading Ltd, a wholly owned subsidiary of Arts Council England. Registered address: Arts Council England, North East, Central Square, Forth Street, Newcastle upon Tyne, NE1 3PJ
   
Our Top Tips for Buying Art
1) Buy something you like, not something you think you should like! 
2) Find out about the artist, for a fuller buying experience and more understanding of the piece. Find out about the artists' story and track their future development.
3) Find out if the price includes framing and a Certificate of Authenticity to avoid any hidden costs.
4) Have a budget in mind and ask about payment options if there is a piece you want which is more than expected.
5) Always buy from a reputable gallery.
If you have any questions on purchasing art from DegreeArt.com or would like any advise, please call our art advisors on 020 8980 0395 or email info@DegreeArt.com