Jane Evans
Manchester Metropolitan University (BA Hons Fine Art , 2011)
Life is about negotiation, compromise – it's something you learn, as you get older.  Alice Neel, Elizabeth Peyton and Marlene Dumas inspire me to create work that is psychological and reveals some of the weaknesses of the human condition.
Painting is for me, also a negotiation between materials and myself.  I never draw anything; I never work out beforehand what will be.  My most successful works are an intense relationship between myself, subject, material, constantly reworking until the piece is complete.
Oil painting is a different experience, and my watercolour work informs my approach to oils,  I like to work in one medium until I have reached a point where I can't move things forward and then move to the other medium and keep pushing things forward.
+ Expand to read more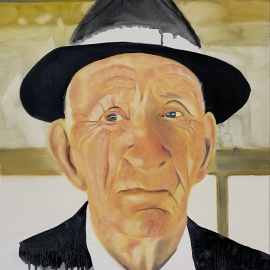 Exhibitions
Chorlton Arts Festival The Font 17th - 27th May 2013 Manchester Chorlton Arts Festival Battery Park 17th - 27th May 2012 Manchester No.1 Paint. September 2011 BLANKSPACE Manchester Mixed Exhibition. December 2010 see art gallery, Lancashire 40 something at 52. April 2010 52 princes street, Manhcester