Laura H Elliott
University for the Creative Arts, Farnham (Art and Media Bachelor of Art with Honours , 2009)
"The 'Landscape Moods Collection' is a series of mixed media paintings since its inception in 2002 by artist Laura H Elliott. Since 1994, Laura has exhibited widely in the U.K., Europe and the US, including and her first solo exhibition in 2008, she subsequently completed her Art and Media BA with Honours in 2009 with a hugely successful group exhibition at the Royal College of Arts in 2015. It was in 2013 that her work began to be represented by Degree Art Gallery, beginning a new step in her career. This series is in constant development, from Laura's continual exploration of abstract-expressionist inspirations, ideologies and drawing from her subconscious and emotions; therefore, the collection is forever changing. This constant progression adds a new energetic, fiery and vibrant mixture into each new artwork. For Laura painting is an unfocussed, instinctual process, with a simple colour palette choice being the only planning I do. This freedom of expression enables Laura to draw on a lifetime of travel, creativity, emotions, landscapes and inspiration from the beautiful British landscape that surrounds her. Laura feels that her art is a part of who she is, a part of her identity."
Publications:
Check out our interview with Laura H Elliot on our website.
+ Expand to read more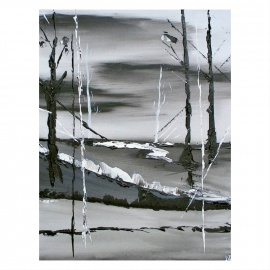 Exhibitions
Exhibition Dates from 1995 onwards: CURRENT: Haegeumgang Museum, 262-5 Galgot-ri, Namboo-myeon, Gyeongju, Gyeongsangbuk, South Korea ~ 1st -14th August 2014 plus travelling arund galleries in South Korea. "Minha Fukushima" Exhibition, Faro, Portugal – Inspired by poetry of writer Taro Aizu ~ FUTURE: 2015 onwards ARTIFACT Gallery New York ~ SOLO EXHIBITION - BRITISH SCAPES: A collection by Laura Elliott, Orchard St, New York, USA ~ Exhibition Dates: 8th - 26th October 2017 PAST SELECTION: 1995 onwards Bridgewater Arts Centre ~ SOLO EXHIBITION - BRITISH SCAPES: A collection by Laura Elliott, Somerset, UK Winchester Guild Hall, High St, Winchester, UK Creative Craft Fair, Hilton Hotel Bracknell, Bagshot Road, Bracknell, Berkshire, UK Picture Craft Gallery, Lees Yard, Holt, Norfolk, UK Brazilian World Festival Arts for Peace, Ubá - Minas Gerais, Brazil Windsor Art Fair, Royal Windsor Race Course, Berkshire, UK. University of the Creative Arts, Fine Art and Art & Media BA (Hons) Degree Group Exhibition, Farnham, Surrey, UK 1215 Art Gallery, IATTDA 2009 Summer Exhibition, Old Windsor, Berkshire, UK Infusion Gallery, South Spring Street, Los Angeles, CA, USA X-Power Gallery (GP DEVA - Frontier Art), Rodeo Dr., Beverly Hills, CA, USA. Red Gate Gallery, London, UK The Poly, Church Street, Falmouth, Cornwall, UK La Boheme Gallery, Buena Vista, Colorado, USA Art in the Park, Buena Vista, Colorado, USA Pedro Ruivo Foundation, Faro, Portugal Gallerie Samora Barros, Albuferia, Portugal Climate of Change Exhibition: London Art, Union Street, London, SE1 0LR, UK. Toe In The Water Gallery, Fowey, Cornwall, UK. As Yet Unknown Gallery, Chalk Farm Road, Camden Town, London, NW1 8AH, UK. Artspace Galleries, Modern/ Contemporary Arts and Sculptures - Maddox Street, Mayfair, London Picture Craft Gallery, Holt, Norfolk, UK Contemporary Underground—World of Art Exhibitions: Liberté d'Expression Competition - Barclays Global Headquarters, Canary Wharf and Candid Arts Trust, Torrens St, London, UK. Bracknell Art Gallery, Charles Square, Bracknell, Berkshire, UK.
Press
| Publication Title | Job Title | Date |
| --- | --- | --- |
| Artist Talk Magazine (Print Edition) | Artist Talk Laura H Elliott | Mon, 04/01/2019 |
| Creativ Paper (Print Edition) | Artist Interview Laura H Elliott | Mon, 10/01/2018 |
| The Moment Magazine (Print Edition) | Art In The Heart Artists With Shops Online | Fri, 06/01/2018 |
| Degree Art Gallery Artist Interview | "Energetic Art Featuring Emotional Content" | Sat, 04/01/2017 |
| The Palette Pages | Artist Interview Laura Elliott | Sun, 05/01/2016 |
| Iris Art Magazine artist interview with Laura Elliott BA (Hons) " | "Laura Elliott's art journey is a roller coaster ride" (2015: 1) | Sat, 02/28/2015 |