Introducing Contemporary Collective x Bankside Hotel's August Artist Residency ft. Georgina Harris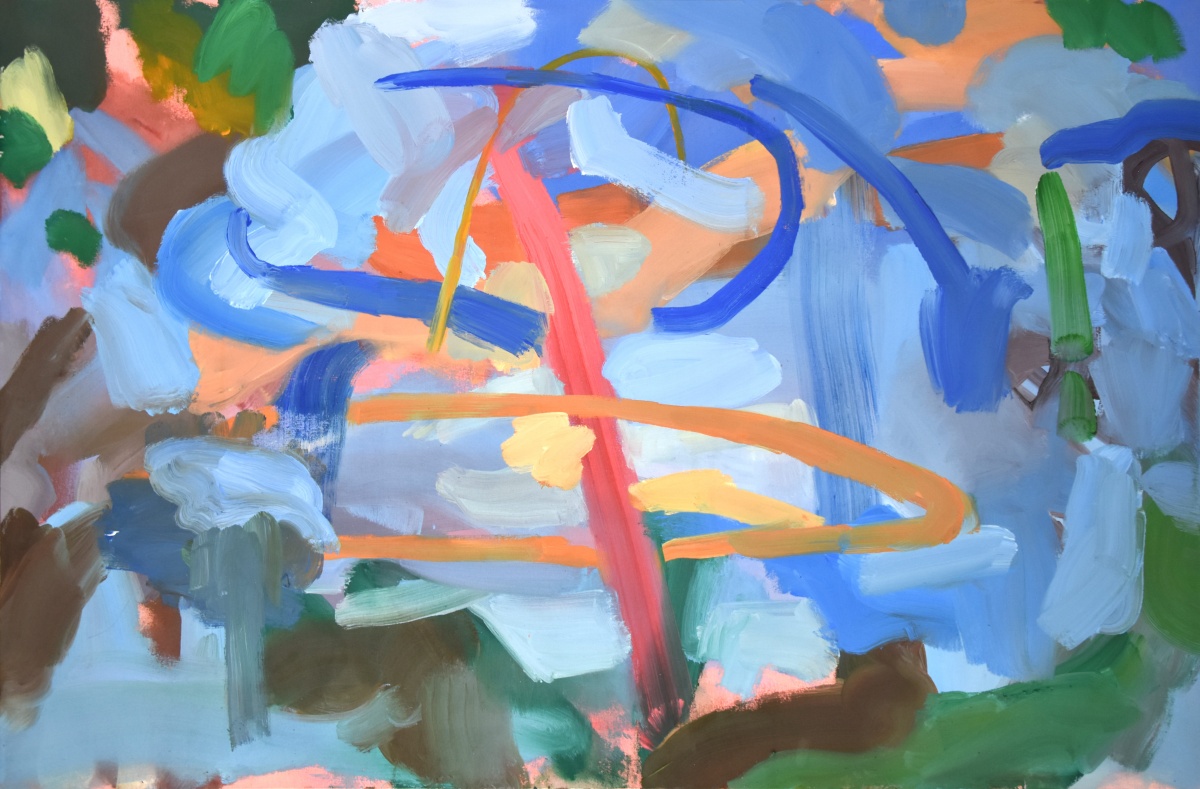 Artists in Residence: 27th September - 6th December 2021
Bankside Hotel, Makers Studio, London SE1 9JU
---
Bankside Hotel x Contemporary Collective are thrilled to welcome abstract painter Georgina Harris to the Makers' Studio as their next Artist in Residence. Bankside Hotel x Contemporary Collective are thrilled to welcome abstract painter Georgina Harris to the Makers' Studio as their next Artist in Residence from 27th September - 6th December. London is 21 percent trees, which, according to the United Nations, makes London the world's largest urban forest. With this in mind, whilst in residency Georgina will use painting to celebrate Lodnon's green spaces and make work that explores our connection to urban trees.
Georgina will be painting the 'lived experience' of being in London, by taking her painting outside to create a series of 'plein air' abstract paintings. The artist also welcomes you to visit her in the studio, to share the green spots you cherish in the city. She will use these conversations and her own experience to paint alternate maps of the city, with the aim of celebrating the connection between people and place.
Operating with an open-door policy to encourage visitors to engage directly with the art, and will host a range of events including a cocktail tasting course inspired by the artist's practice, and two workshops surrounding abstract map making as means of understanding the spaces around us.
For the duration of her residency, Georgina will take over the Contemporary Collective Instagram account to document her experience in the studio space. This takeover will feature process shots and final artworks to provide insight into the artist's creative process, as well as weekly summaries including video clips of various activities taking place in the residency space and the development of ongoing work.
About Georgina's Practice:
Georgina is from London and is currently based in Morecambe, Lancashire. In 2020 she graduated from Lancaster University and won the Freelands Painting Prize. Georgina's work investigates how our bodies are emotionally and physically intertwined with the natural landscape. She is interested in painting worlds where the real and the mythical exist together. Georgina paints outdoors in oils or acrylics, working quickly and instinctively. It takes her a few hours to complete a painting. She builds up layers of colour and gesture varying from soft washes to impasto stabs, from luminous glazes to opaque blobs of colour. With each brush mark she attempts to depict the landscape as something felt by the body. Each brushstroke depicting a feeling, a phenomenon. Back in the studio, Georgina paints the places she has walked, based on memory, and referencing paintings made on location. These works take the form of alternative maps of an area and can be of places she visits for the day, or that she returns to for years. By working in this way, her work attempts to paint a whole new picture of a place. Painting feels like exploring a surreal world, she never knows what the painting is going to contain once it is finished. It's like world building, and Georgina hope the viewer feels as if her paintings contain a space which they could walk into. Georgina's work rejects the calculated, geographical perception of place, and embraces the emotional entanglement we have with the landscapes we move through; our memories that are embedded in the landscape. Fundamentally, she hopes her paintings present an alternative way to relate to the natural world.
View the full collection of Georgina's paintings
---
Residency Partners:
For any further information, please do not hesitate to contact Jenna Sachs: Jenna@artellite.co.uk / 020 3701 7412 / www.DegreeArt.com