'Artist Salon 2 | Mark Making' with #ArtistInResidence Julie Bennett is now LIVE on DegreeArt's IG TV Channel!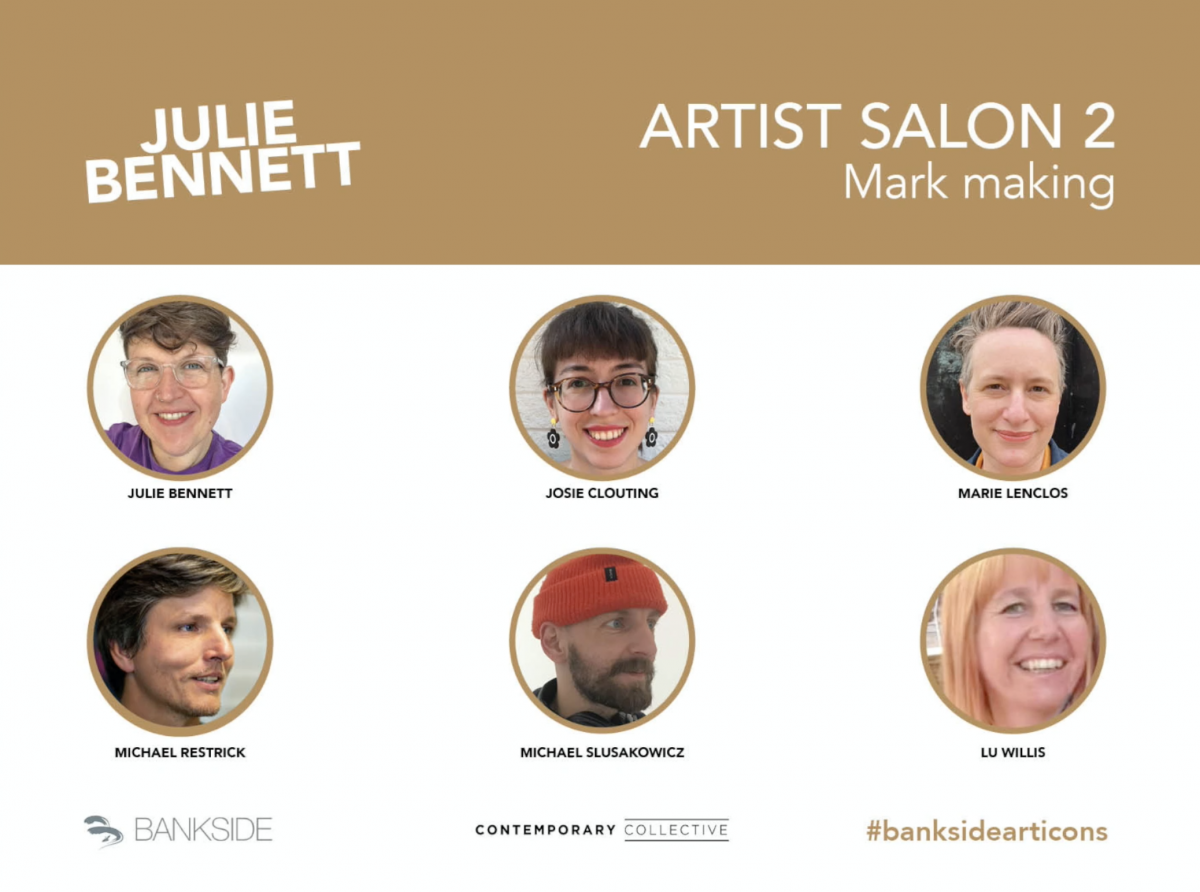 Join Contemporary Collective x Bankside Hotel #ArtistInResidence Julie Bennett, for the last of her two 'Artist Salon' events with artists; Julie Bennett, Josie Clouting, Marie Lenclos, Michael Restrick, Michael Slusakowicz and Lu Willis.
About the event:
The overarching theme is 'mark making'. 6 professional painters will discuss the difference between accidental and planned mark-making, brushes and how the paint's physicality and the painted surface influence marks. The painters will come together at the studio to discuss new ideas, aiming to provide a diverse, open and constructive environment to gain feedback on their own practice and provide feedback on others. Thus hopefully creating an opportunity for all involved to share and learn from a wider range of practices and perspectives. The event will be a lively discussion of creative ideas. It will be in a relaxed, supportive, free format like a crit. The aim is for it to feel more like watching an artists' social than attending an art history lecture.
About the artists:
Julie Bennett is a portrait painter. Her bold, unapologetically confident portraits of pop culture icons explore the influence of celebrity in society.
Josie Clouting is a landscape painter. From man-made cultivated botanic gardens to wild stormy beaches and the rolling hills where she lives. Her paintings are intuitive, emotional responses to her natural environment, inspired by the vastness and wonder of the natural world.
Marie Lenclos is a French painter who has made her life in London since 1995. Her strong figurative urban landscapes focus on the lines, light and colour of familiar streets near where she lives and works, in Loughborough Junction.
Michael Restrick is a figurative painter. Focused on human relationships and state of mind, his palette of symbols narrate the scene.
Michael Slusakowicz (Kibou) is a painter. Specialised in bold and colourful still lifes characterised by the usage of vibrant and often contrasting colours and forms.
Lu Willis is a painter. Specialised in atmospheric flower portraits, celebrating the sculptural form and individual beauty of each bloom. Slightly sinister shadows in recent works add a drama, inspired by Dutch masters.
MORE ON JULIE'S RESIDENCY HERE
FOLLOW OUR ARTIST RESIDENCY PROGRAMME HERE