Introducing Contemporary Collective x Bankside Autumn Artist Residency ft. Kate Matsevych

Artists in Residence: 2nd October 2023 - 12th January 2024 
Bankside Hotel, Art Yard Studio, London SE1 9JU
---
Bankside Hotel x Contemporary Collective are thrilled to welcome painter and illustrator Kate Matsevych to the Art Yard Studion as their Autumn Artist in Residence. In the studio from 2nd October 2023 to 12th January 2024, Kate will explore the different patterns found within Bankside Hotel to serve as inspiration for a series of paintings that celebrate women and femininity. This new series of paintings will be inspired specifically by patterns found in the hotel's interior, furniture and dishes, using fabric adorned with the collected patterns to capture the visual richness of the Bankside Hotel.
Expanding on her use of texture, Kate plans to work on linen canvas and experiment with clay to add a distinct visual and tactical quality to her paintings. Whilst in the studio, Kate plans to experiment with working on larger canvases to push the boundaries of her artistic practice and create impactful, large-scale pieces that evoke a sense of awe and immersion.
Kate will also incorporate a digital component to her artwork through augmented reality, where she will capture images of the hotel's rooms and use them as backgrounds in an augmented reality layer of the paintings. Through the use of a special filter, viewers will be able to see the hotel's spaces come to life within her artwork.
For the duration of her residency, Kate will take over the Contemporary Collective Instagram account to document her experience in the studio space and engage closely with followers. Operating an open-door policy, Kate hopes to foster a collaborative environment in the studio space, inviting friends, hotel guests, passersby and fellow artists to explore new ideas and push creative boundaries together.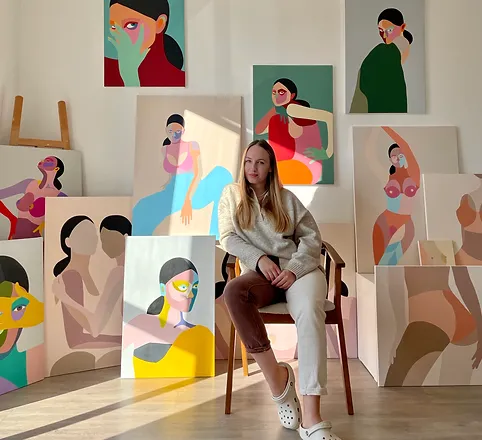 About Kate's Practice:
Kate Matsevych is an artist and illustrator based in London, UK. Originally from Ukraine, she completed her education at the School of Fine Arts. From an early age, Kate exhibited an unwavering passion for art, with a remarkable talent that manifested as early as two years old. This innate drive and dedication have fueled her artistic journey ever since.
What truly captivates and inspires Kate in her art is the essence of womanhood. Her artworks are a dedicated celebration of the beauty and strength found within the female form. Through her creations, she aims to convey the remarkable aura, warmth, and love that emanate from women. For Kate, a woman is much more than a mother or the soul of a family; she represents a powerful, intelligent, and courageous being, capable of achieving extraordinary feats.
Kate's artistic vision seeks to encapsulate the multifaceted nature of women, highlighting their resilience, complexity, and indomitable spirit. Her works serve as a testament to the inherent beauty and strength found within the feminine essence. By portraying women in her art, Kate aims to inspire and empower others, encouraging them to recognize and embrace their own inherent greatness.
View the full collection of Kate's artworks

---
Residency events:
Thursday 11th January, 18:00 - late: End of Residency Drinks & Exhibition 
---
Residency Partners:
For any further information, please do not hesitate to contact Jenna Sachs: Jenna@DegreeArt.com / 020 3701 7412 / www.DegreeArt.com