Introducing Contemporary Collective x Bankside Hotel's Summer Artist Residency ft. Lana Matsuyama 

Artists in Residence: 20th June - 15th September 2023
Bankside Hotel, Art Yard Studio, London SE1 9JU
---
Bankside Hotel x Contemporary Collective are thrilled to welcome back artist Lana Matsuyama to the Art Yard Studio, for her first solo artist residency in the space. In the studio from 20th June - 15th September, Lana will focus on her signature 'Of Katatchi' series, exploring the themes of work and play.
Inspired by the relationship between work and play, Lana will examine how our everyday lives have become a delicate balance and conversation between contrasting concepts and how these ideas influence her artworks. Focusing specifically on the Bankside Hotel and its surrounding area, Lana will explore how the hotel functions as a place for both exploration and collaboration, both in work in play, ultimately articulating this through her artwork, the residency space, and various projects and events that she plans to host.
Continuing her exploration of the interaction of shapes, forms, textures and colors through painting, Lana will expand on this process by taking all of her inspiration from the architecture and interiors of the Bankside Hotel, as well as the surrounding urban area of Southwark and Southbank. To further connect the paintings to the concept of work/play, Lana plans to create art that celebrates the interconnection and overlap of geometric shapes (representing work) and organic shapes (representing play) and will pick her visuals accordingly. In addition to creating both large and small scale paintings, Lana will create a set of ceramic plates in the same style as her art which will be inspired by the hotel's restaurant, Art Yard Bar & Kitchen.
For the duration of her residency, Lana will take over the Contemporary Collective Instagram account to document her experience in the studio space. This takeover will feature process shots and final artworks to provide insight into the artist's creative process, as well as weekly summaries including video clips of various activities taking place in the residency space and the development of ongoing work. In addition to her final end of residency exhibition, Lana plans on hosting a live music event to further portray the relationship between work and play.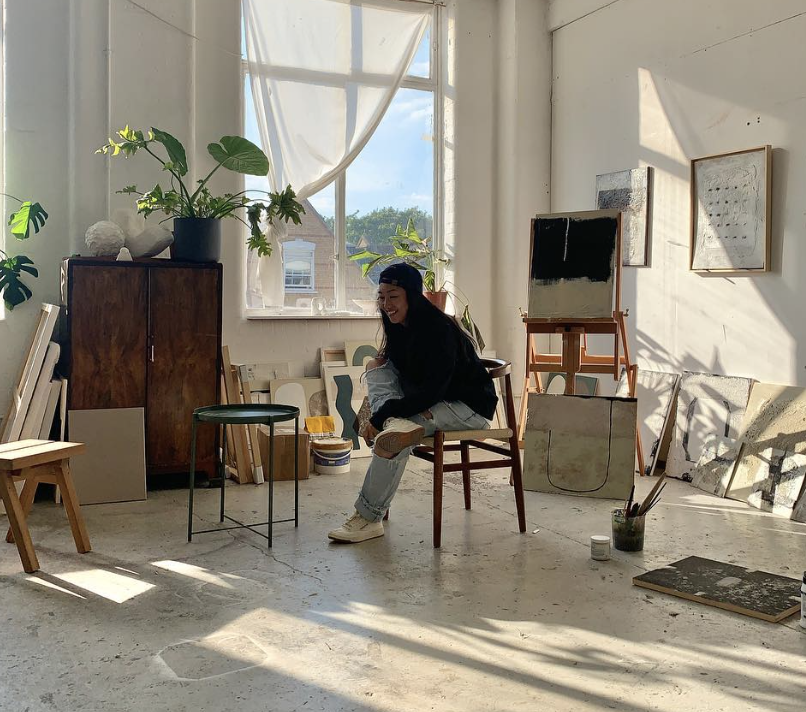 About Lana's Practice:
Of Katachi ('katachi' meaning shape/form in Japanese) is the creation of Lana Matsuyama, a contemporary art painter and sculptor. Based in London, she specialises in abstract mixed media paintings, and aims to retain a sense of minimalism in her work from a distance, yet simultaneously creating movement, emotion and complexity through an exploration of color, repetition and texture. She challenges the viewer's sense of depth/space and perception, and uses shapes informed by design, architecture, urban development and the natural world. Japanese influences such as wabi-sabi come into play as she examines the practice of making as an endless process of layering adjusting, uncovering and building. She embraces imperfection and impermanence in her work.
View the full collection of Lana's artworks
---
Residency events:
DATE & TIME TBD: Live Music Event
Thursday 7th September, 18:00 - late: End of Residency Drinks & Exhibition
---
Residency Partners:
For any further information, please do not hesitate to contact Jenna Sachs: Jenna@DegreeArt.com / 020 3701 7412 / www.DegreeArt.com