Kate Robotham is an award-winning contemporary British artist specialising in oil painting. Kate studied Fine Art at Loughborough University, and since graduating in 2013 has exhibited widely including at The Pedestrian Gallery Leicester, Surface Gallery Nottingham, The Old Truman Breweries London, and further afield including Belgium and China. Her work is in several private collections and she currently lives and works in London. Kate is passionate about using colour, paint and the visual language of nature as a means of connecting with the world and using it as a means of sharing beauty and wellbeing, creating paintings which can become experiences and moments of joy.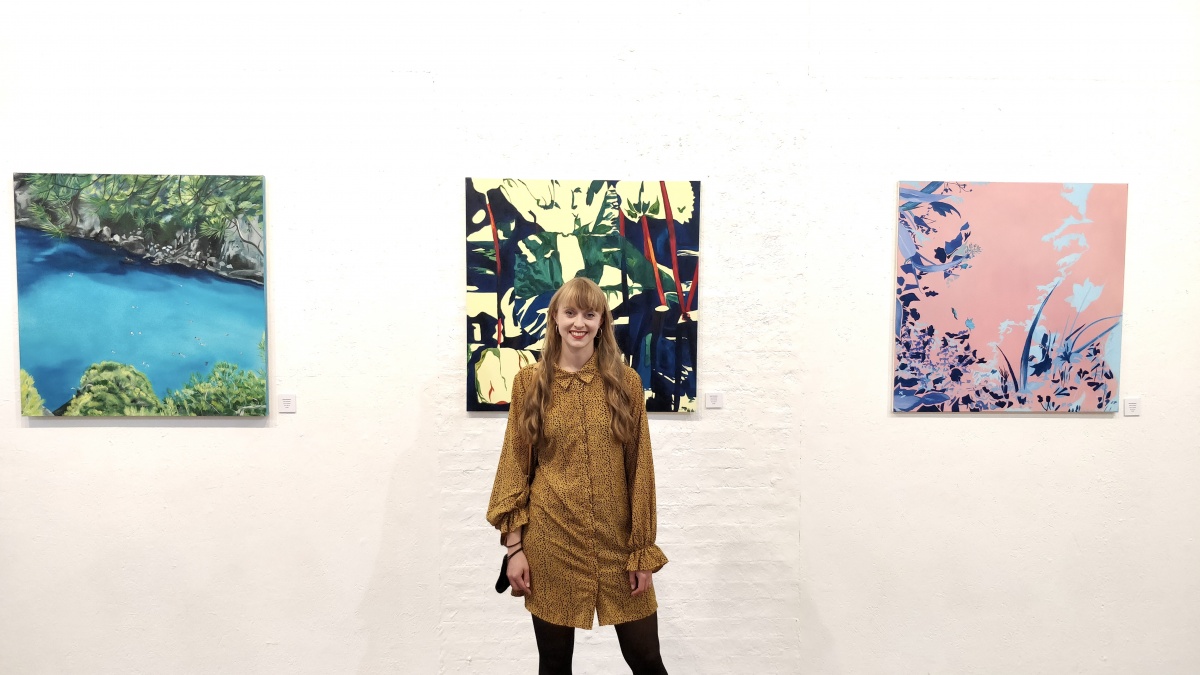 1) Which art movement do you consider most influential on your practice?
Impressionism. The impressionists taught us to see the world in a different way, they were masters of light, colour and composition.
2) Where do you go and when to make your best art? 
I always paint in my studio in east London. It's close to the Walthamstow wetlands, so I am lucky enough to have a beautiful view of an open field, trees and dog walkers from my window, it's a very relaxing view. I always make my best work in the studio as it's generally peaceful and because I am surrounded by lots of other artists, designers and creatives, which is really inspiring. Late afternoon is my most productive time. It often takes me most of the day to get into the flow and once I'm in the flow I don't want to stop.
3) How do you describe your 'creative process'?
My work process involves taking photos of scenes in the natural world which inspire me. I then use Photoshop software to experiment digitally; cropping, rotating and adjusting the colours until the composition is just right. This is a creative and unplanned process involving experimentation and I often don't know how the composition will turn out. Once I have a composition that I am happy with, I use this to inform the painting, however it is never a direct copy. I carefully choose which parts of the composition I want to include or emphasise and which to leave out or hide to create a perfect balance. Painting is an emotional and instinct-led process for me. I like to allow the painting to develop organically and responsively, allowing different shapes, colours and brush strokes to emerge as the painting progresses.
4) Which artist, living or deceased, is the greatest inspiration to you?
David Hockney. I love his use of vibrant colour and his thirst for trying new things. His work covers many genres and techniques and I am excited to go and see his new exhibition of digital drawings in Cambridge soon.
5) If you weren't an artist, what would you do?
I also work part-time as a Career Coach. I love helping people to discover more about themselves and empowering them to pursue a purposeful and fulfilling working life.
6) What do you listen to for inspiration?
All sorts! I love artists such as Coldplay, London Grammar and Mura Masa, but I also listen to lots of audiobooks, most recently Grayson Perry's 'Descent of Man' and Philip Pullman's 'His Dark Materials' series.
7) If you could own one artwork, and money was no object, which piece would you acquire?
One of Monet's Nymphéas (waterlilies) paintings from the Musée de l'Orangerie, Paris. They are some of the most amazing paintings I have ever seen. The scale is staggering (each being 2m tall and 6m long), especially when considering that Monet was 73 when he started them and they took 9 years to complete. Viewing them is a completely immersive experience and they are a testament to his genius in colour, light, and composition.
8) If your dream museum or collection owner came calling, which would it be?
The Royal Academy, I would love to become a Royal Academician one day.
9) What is your key piece of advice for artists embarking on a fine art or creative degree today?
Be part of community. Being an artist or creative freelancer can be lonely so find yourself a mentor or creative community to be part of who you can journey with and learn from.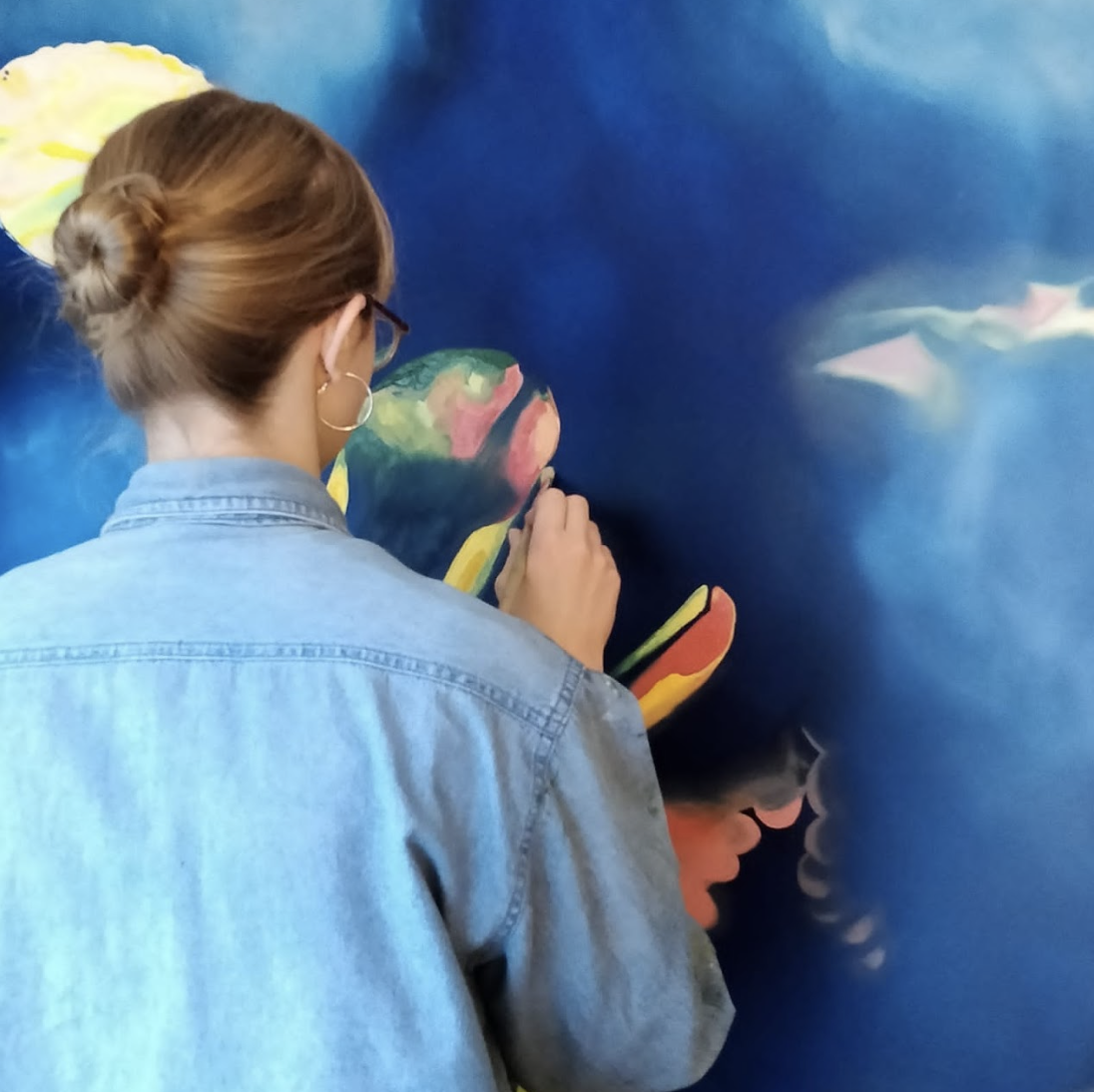 10) What is your favourite book of all time (fiction or non fiction)?
I love reading so it's a difficult choice, but I have to go with the all-time classic, the Harry Potter series. They create such an amazing magical world to escape into!
11) If you could hang or place your artwork in one non traditional art setting, where would it be?
Directly within nature. It would be great to see my work in the context it has been inspired by.
12) What was the biggest lesson your university course or time studying taught you?
My time at university taught me to be independent and resilient. You cannot do a Fine Art degree without developing these skills.
13) And finally, if we were to fast forward 10 years, where would we find you?
You would find me in a large, shared studio warehouse in Berlin, painting on a huge scale and exhibiting my paintings internationally.

Learn more about Kate and discover her collection of artworks.