Graduated from the Royal College Art, Kelly Jenkins is a British artist who creates tactile, embroidered paintings that are both atmospheric and powerful. Combining highly intricate embroidery with abstract landscape painting, Kelly is influenced by the drama and light of Impressionism and Romanticism along with elements of graffiti, erosion and vandalism.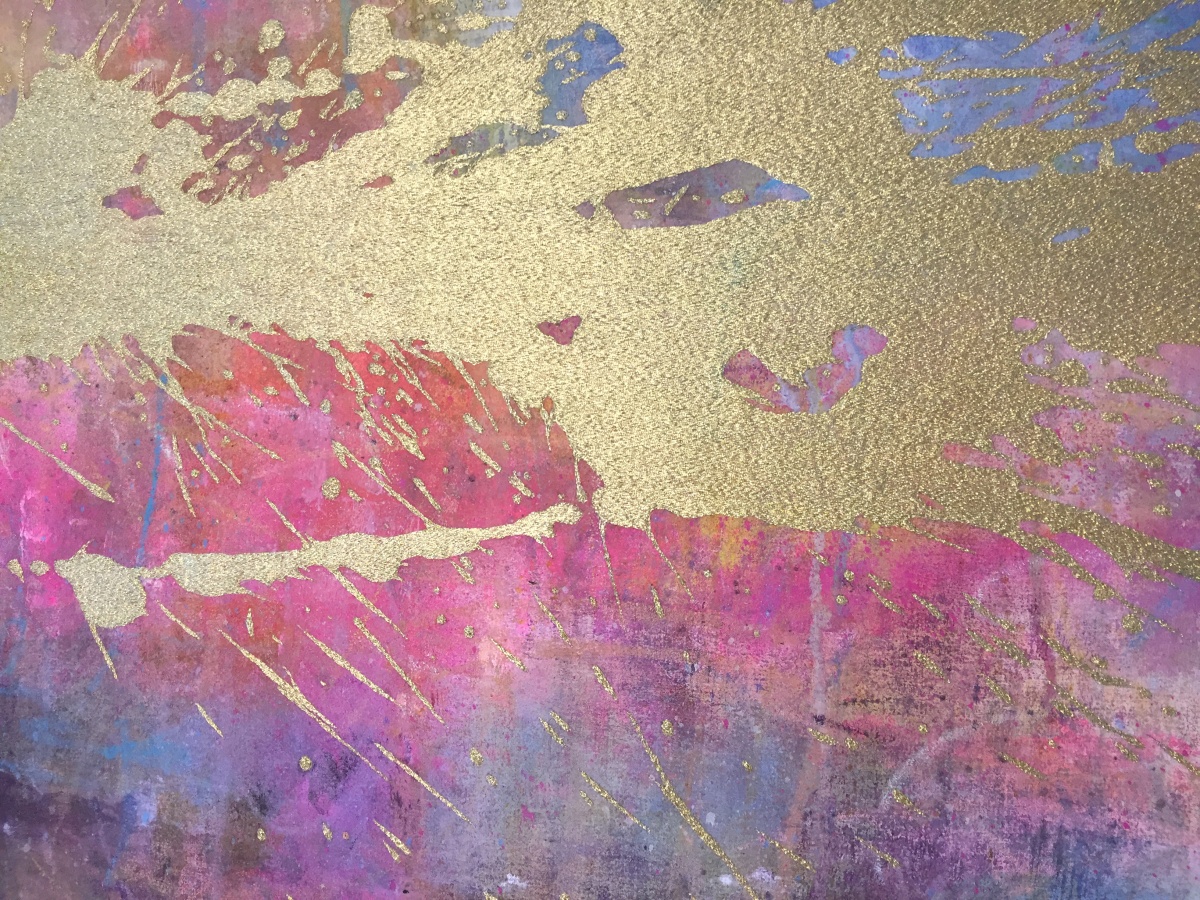 1) Which art movement do you consider most influential on your practice?
Impressionism, Rococo Art and Contemporary Street Art.
2) Where do you go and when to make your best art?
My studio at the top of my garden is where the magic happens and usually just after I've been for a run. A run really helps to clear my head, focus my thought process and sort my to-do list. I'm definitely an early bird artist and much prefer to create in the mornings if I can.
3) How do you describe your 'creative process'?
In a nutshell its order & chaos. Impulsive yet premeditated.  I prefer to create each of my paintings from memory, enabling me to produce images and compositions that are more abstracted and expressional interpretations of my memories. Each piece evolves through a highly contrasting, two-stage process; the first is with a loose, energetic and spontaneous approach to paint my 'memory-scapes'. I throw, scrape, scratch, smear, wipe, roller, spray and splatter paint onto canvas. Very rarely do I pick up a brush! I paint with oils, acrylics, spray paint and pastels, I love the layering of different mediums and the tactility this gives the painting.
The second stage is followed by a more controlled approach, with many labour intensive hours of carefully planned embroidery where I use my sewing machine to 'draw' with stitch directly into the painted canvas. 
The impetus for my embroidery is fuelled by my love of texture and stitch; I simply don't feel a painting is real or complete until it's got some sort of stitch in it. The embroidery's playful, darker side touches upon the historical and political landscape of textile art, its status and place in fine art and the stereotypes that surround it. Hence my embroidery is always 'on top', elevating its status as the dominant medium in my paintings. To me, this handmade process enhances the painting underneath and depicts my personal experiences by using my most immediate and fined tuned tools - my hands. I engage with each artwork differently but with a sense of process, attachment and dedication to the art of embroidery and not a means to an end for the final effect. It is a meditative experience, a labour of love and a technique passed down to me by my mother and grandmother so it's inclusion in each painting is paramount and of sentimental importance. 
Once stretched, the final embroidered painting results in layers of paint and stitch that embody an arresting sense of depth and movement; an aesthetic that's highly tactile and full of life. They conjure up feelings of spontaneity, happenstance and cherished moments and through their texture these memories and emotions become tangible.
4) Which artist, living or deceased, is the greatest inspiration to you?
Too many to pick just one. Jenny Saville, Cy Twombly, Rachel Whiteread, Wangechi Mutu, Freddie Robbins, J W Turner, all so different and the list goes on.
5) If you weren't an artist, what would you do?
It would have to be something where I can use my hands. When I was younger I wanted to be an archaeologist, a stone carver could be fun.
6) What do you listen to for inspiration?
There are two awesome albums that get put on replay a lot at the moment; Theremin and Voice by Caroline Eyck and Group Therapy 373 by Above & Beyond.
7) If you could own one artwork, and money was no object, which piece would you acquire?
The Kiss by Gustav Klimt.
8) If your dream museum or collection owner came calling, which would it be?
Harry Blain. He bought up my largescale knitted canvases at my graduate show at RCA. I'd love to see my embroidery paintings added to his collection.
9) What is your key piece of advice for artists embarking on a fine art or creative degree today?
Break all the rules. Work with students from different disciplines to push the boundaries of your won.
10) What is your favorite book of all time (fiction or non fiction)?
Nineteen Eighty-Four by George Orwell.
11) If you could hang or place your artwork in one non traditional art setting, where would that be?
Hung on the walls underwater in an Olympic size swimming pool.
12) What was the biggest lesson your university course or time studying taught you?
Don't worry about offending people with your art, just be yourself and create the art you want to create.
13) And finally, if we were to fast forward 10 years, where would we find you?
Me - Still in Hampshire and working from an even bigger studio. My Art - Exhibiting and selling globally.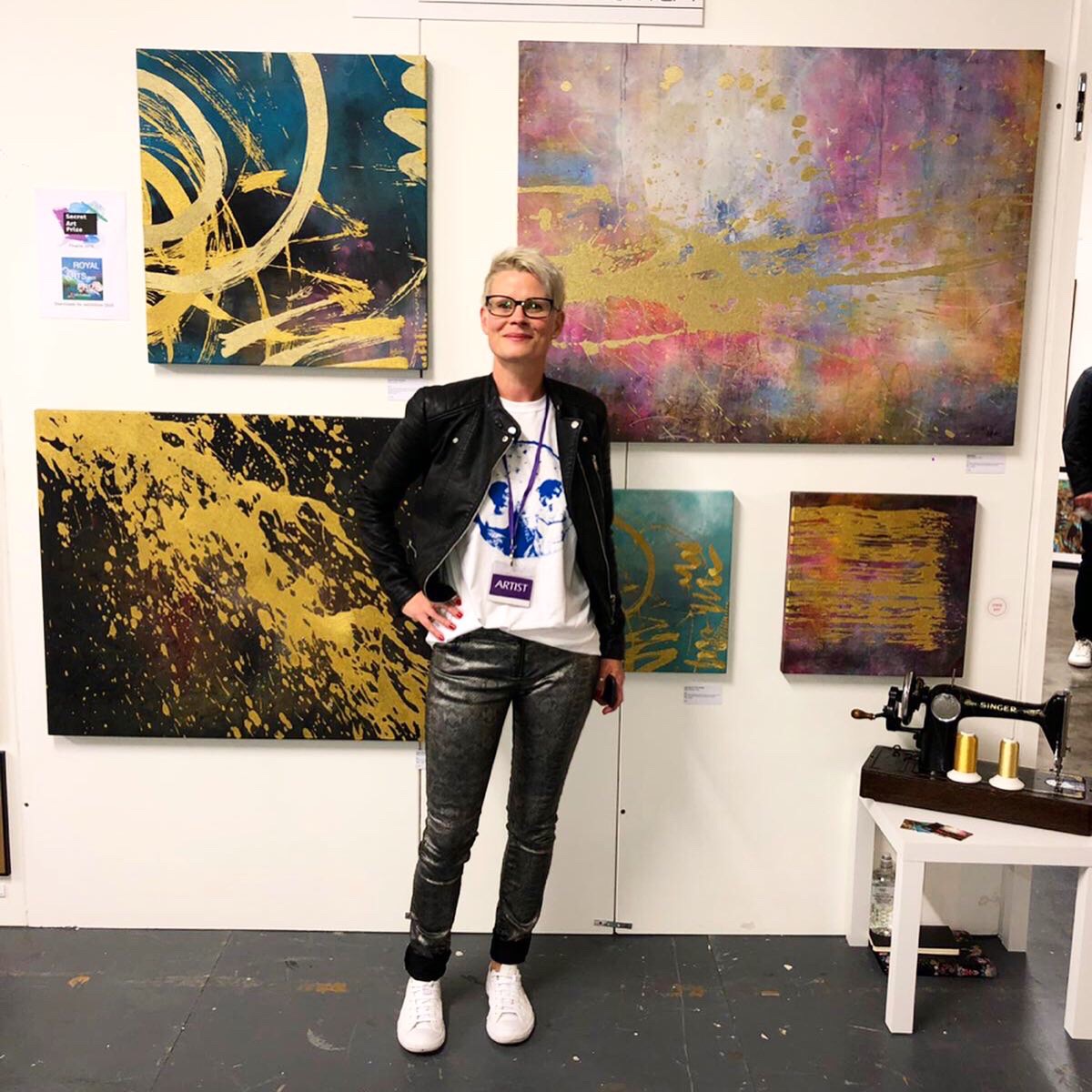 Learn more about Kelly and discover her collection of painting