Ramona Pintea is an established Surrey based artist, who works primarily in oils, with occasional forays into acrylics and mixed media. Her paintings provide colour and character in private collections stretching from Norway to Canada, England to Latvia, and Honk Kong to the Philippines.
Ramona's work is a fluid fusion between abstract and figurative with one overriding purpose, the quest of self-discovery. It's a chromatic journey towards answers, an energetic existential debate. Our life is a continuous search whether consciously or not, we try to find meaning to discover who we are, what our life's purpose is and how we can be happy. The paintings aim to catch the moments of vulnerability along this journey, to reveal a desire to communicate with other celestial dimensions and the experience is sometimes tumultuous, other times serene.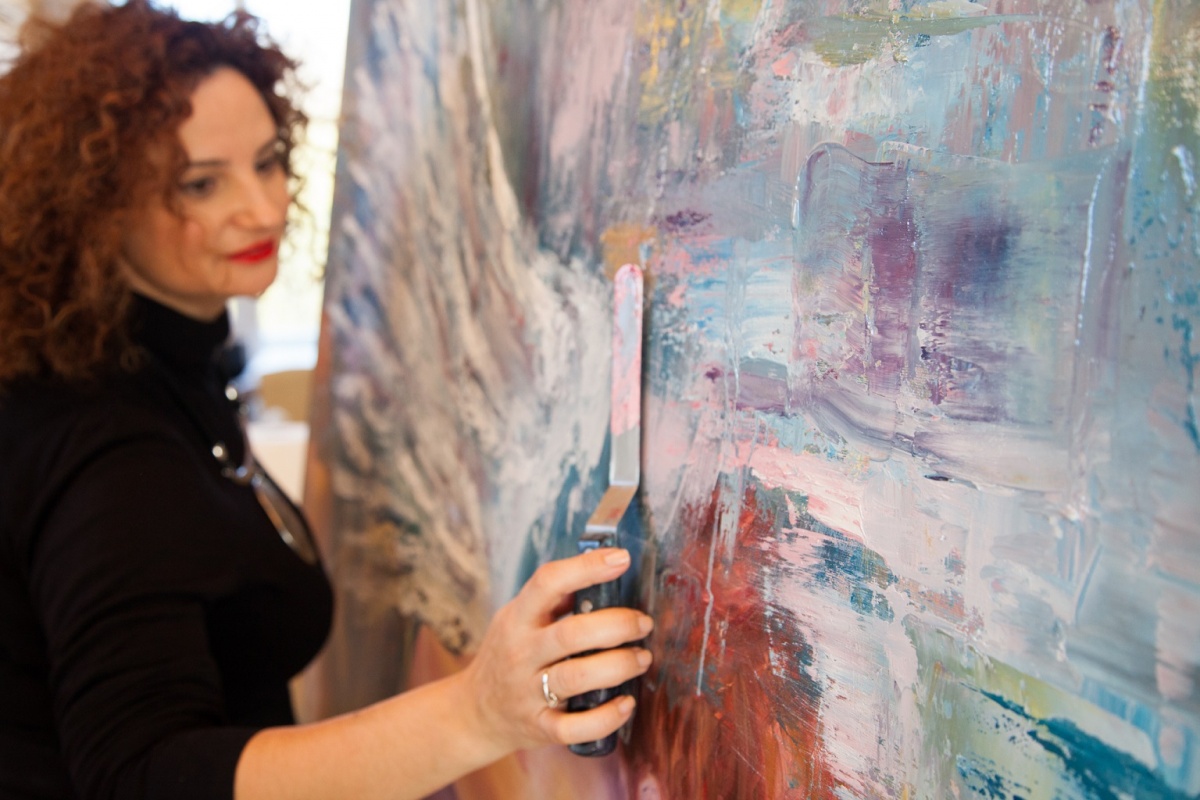 1) Which art movement do you consider most influential on your practice? 
I would say Fauvism and German Expressionism. I love the use of bold colours and gestural strokes and I use them with intent to communicate emotions. 
2) Where do you go and when to make your best art? 
I go to my studio every day to paint, however my art is conceived during meditations, during reading, day or night dreaming, during intense emotional bursts.
3) How do you describe your 'creative process'? 
I am interested in asking existential questions, such as 'Why are we here?', What's my life purpose?', 'Is there a God?' 'Can we manifest our intention?' 'Is love all there is?' 
In my quest for answers I 'try' various spiritual practices, I read and I live by the principles I learn. 
My spiritual animal series was created during guided shamanic meditations when I connected with various animals. The lioness was the first animal that appeared to me and I painted her many times. I am lucky to be highly visual so when I meditate or when I dream, I can see clearly, in great detail and bold colours. My visualisations are always very beautiful, colourful, with intense positive emotions, something I then try to convey in my art.
I think about a painting for a few days before I put it on canvas. Once I start painting, I go through two phases. The more technical phase, when I am focused on the figurative part of the painting and the 'let go' phase when I paint without being present, I just let it poor out of me. This is the best part because it surprizes me, most of the time, it takes its own direction.
4) Which artist, living or deceased, is the greatest inspiration to you? 
Oh, this is a difficult question, where do I begin? Probably the greatest artists that inspire me are Michelangelo, Monet and Gerhard Richter. I once spent two hours in a LA Museum in front of a Monet hay stack painting. I would have stayed there longer but my husband visited the whole museum and wanted to leave.
5) If you weren't an artist, what would you do? 
Before I was a professional artist, I was a fashion designer for 10 year, and an interior designer for 5 years, both times running my own business. It took me a long time to trust my instincts, overcome my limiting beliefs and become what I was always meant to be. I was always creative and loved what I did so I'm grateful for the journey, the experiences and the person I became as a result of it.
6) What do you listen to for inspiration? 
I listen when I paint so It depends of what phase of painting, I'm in. When I'm in the 'conceiving' phase or the 'technical' phase of a painting I listen to music. Anything from classical, jazz, 80's, 90's or current hits. When I'm in the 'let go' phase, I listen to audio books that I don't have time to read or something inspirational, like Oprah 'Super Soul Sunday' podcast or interviews with people I admire. This is because I can concentrate on the listening, whilst my hands are painting.
7) If you could own one artwork, and money was no object, which piece would you acquire? 
It wouldn't be a piece, it would be 100. My husband and I decided to buy one or two paintings a year, so we've already started a small collection. We buy pieces we love, and we only have one rule: we both have to like it to buy it. Having various art all around our home is so fulfilling, enriching and it really makes me happy. There are 10's of contemporary artists whose works I would love to have and of course one of Monet's water lilies.
8) If your dream museum or collection owner came calling, which would it be? 
I told you I can visualize very well, so I can imagine a big retrospective at The Tate Modern…. and I would still be alive. 
9) What is your key piece of advice for artists embarking on a fine art or creative degree today? 
Believe in yourself and work hard. 
10) What is your favourite book of all time (fiction or non-fiction)? 
I don't have a favourite book, I love reading. I don't read fiction books (OK, maybe one or two per year) I read biographies, inspirational books, books that I can learn something from. Some of my favourite books are My Life So Far, by Jane Fonda, Benazir Bhutto Daughter of The East, Homo Deus by Yuval Noah Harari, Conversations with God by Neale Donald Walsch, Elon Musk by Ashlee Vance.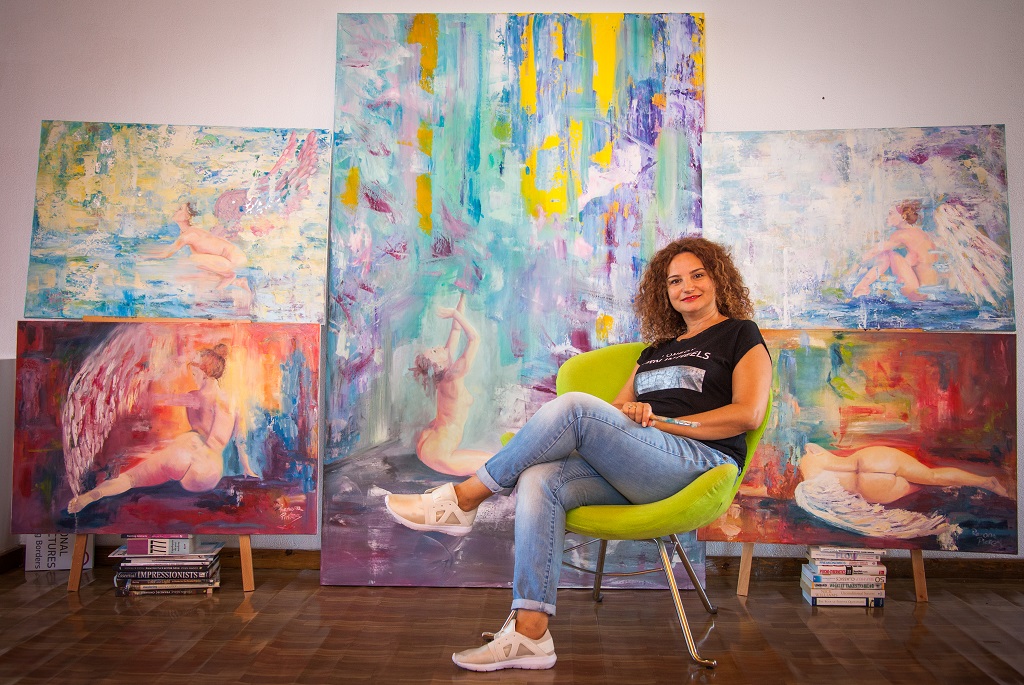 11) If you could hang or place your artwork in one non-traditional art setting, where would that be? 
London underground. People seem so miserable in the underground, I wish I could make them feel happier. My art is about evoking inner dialogue and positive emotions, I wish I could contribute to their well-being.
Another place would be in secondary schools. It hits me every morning when I drive my daughter to school and see tens of teenagers walking sad in their black uniforms like a funeral procession. They really look miserable, there's no running, no laughter, no misbehaving. I want to spray paint their uniforms and make them scream and remind them how great it is to be a teen.
12) What was the biggest lesson your university course or time studying taught you? 
I am mainly a self-taught artist. Study time never ends, your life should be a constant and never-ending improvement – CANI- on all fronts, professionally as well as a human being.
13) And finally, if we were to fast forward 10 years, where would we find you? 
Well, it would be too early for my retrospective at the Tate Modern, but If I am to live by my CANI principles you would find me in my studio, a little bit older, wiser and happy for having touched many people's lives through my art.