For the month of July, artist Kelly Jenkins will completely take over the Contemporary Collective Instagram as our next Virtual Artist in Residence.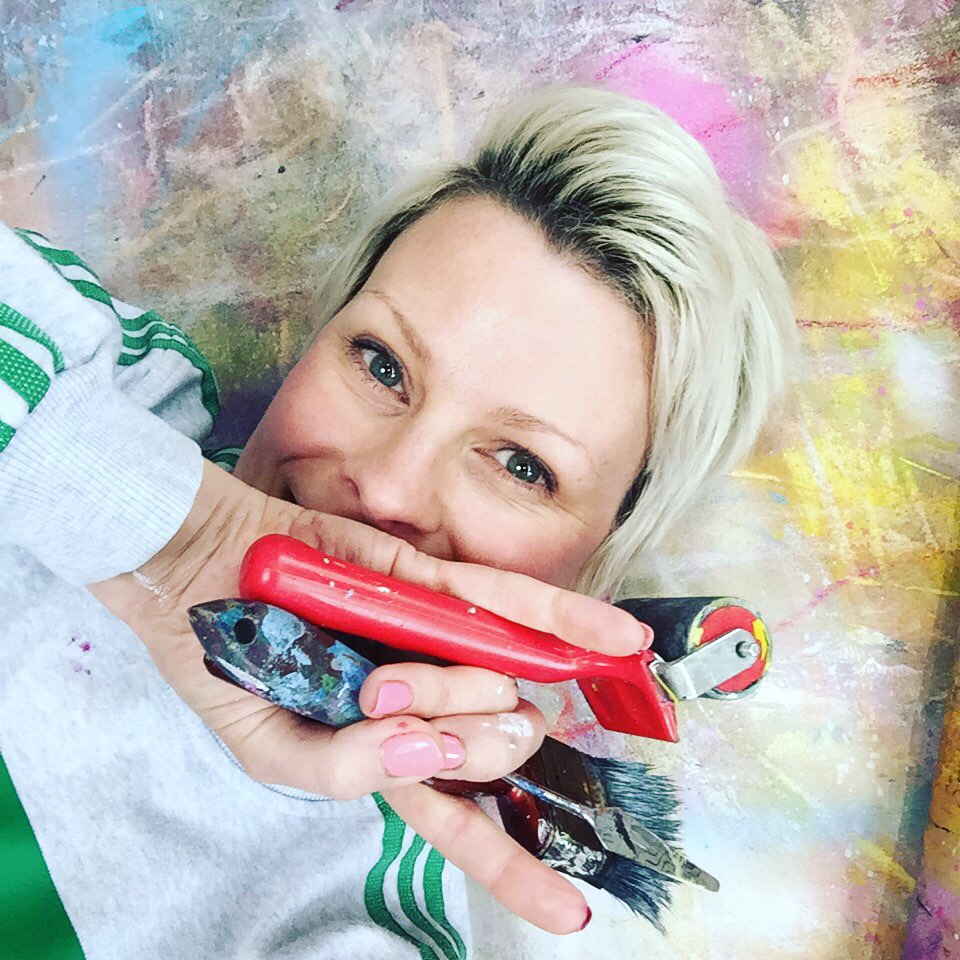 ---
We are delighted to announce that in partnership with the Bankside Hotel, accomplished artist Kelly Jenkins will take over the Contemporary Collective Instagram for the month of July as our next Virtual Artist in Residence.
In efforts to circulate positivity and new digital opportunities to artists during these difficult times, Kelly will provide viewers with a virtual residency experience as she documents her practice directly from home. Lasting from 3rd July to 3rd August, Kelly's residency will include live streamed painting sessions on Instagram Live, daily photos of the artist's studio and home life as well as her process, materials, techniques, and inspiration involved in the making of a final painting from start to finish. Kelly will also provide viewers with links to inspirational content, time-lapse videos, and a special giveaway (details TBA).
 
More on her Residency:
In my recent 2020 series, I have been interpreting personal data, represented as stitches within imagined and surreal painted landscapes of the internet. A virtual world where we spend so much of our time, yet we have no idea what it truly looks like. Translating actual data has enabled me to visualise this online world as something that can be perceived and understood as a real and tangible world of existence.
For my residency I will use this period of time to extend the concept of this series by focusing on specific data obtained from sources such as Google Trends and The Office For National Statistics; to analyse and translate into embroidered paintings, the emotional and habitual changes and shifts in behaviour within the United Kingdom in response to Covid-19.
Since a national emergency was declared concerning the novel coronavirus disease outbreak, families around the world began to stay home and stay safe. Our most vulnerable and elderly were encouraged to self-isolate. Many thousands of families have lost loved ones because of the virus. COVID-19 has fundamentally changed the way we live our lives and how we connect with the world around us. Things like social distancing, home schooling and working from home have become part of 'the new normal' for many.
From this, online trends rapidly emerged reflecting behavioural changes in society. Alongside daily searches for the latest news on Covid-19, consumers began looking for comfort, distractions, reassurances and antidotes to stress. From food inspiration, home workouts and the uptake of streaming media subscriptions to the more concerning spikes on daily searches for domestic abuse, help for anxiety and homelessness.
Everyone is looking for ways to find solace and be safe amid this devastating global pandemic through small home comforts. For most, the simplest of domestic activities and daily rituals at home offers a sense of safety, calm and a little bit of happiness and escapism amidst these unprecedented times we find ourselves in. But for many, home comforts are not so sweet; the home is in fact the opposite of safe, calm and supportive. This offers contrasting viewpoints on how society is experiencing and dealing with the pandemic, and I would like to acknowledge this in my residency work.
I want to record this monumental period of our history, not by focusing on the morbidity rates, that will be documented well enough in other sources. But more specifically 'comfort' data. The data that truly shows how we are dealing with this on a personal level at home. This data demonstrates how human beings attempt to cope with and overcome adversity. It shines a light on our abilities to seek normality, help and stay positive in the face of a global pandemic. I want to create art that translates and celebrates this resilience and survival, as well as our sources of comfort in times of difficulty.