Contemporary Collective is partnering with Bankside Hotel, a design forward and award-winning hotel, to bring their guests a rich and immersive art experience. Located on South Bank of the river Thames, Bankside Hotel aims to pay homage to their art-rich location, which is why they have offered to host a residency programme with Contemporary Collective. With his focus on urban landscapes, data and sustainability Luke M Walker was the ideal choice to launch this partnership with Bankside Hotel.
Luke M Walker - Maker in Residence @ Bankside Hotel from Degree Art on Vimeo.
Luke M Walker is currently one of the co-founders of a new collective, (due to be launched in the next few months) with a focus on protecting the wilderness and highlighting environmental issues. Luke is a trained Interior and Spatial designer and ran a Design Research Studio at Chelsea College of the Arts for several years. The collective was the first one to focus on sustainability and eco design, which gained a reputation for creating a series of Pavilions for Eco build made from recycled materials such as Speedo swimsuits and recycled newspapers. 
Luke M Walker's art derives from his own explorations of the environment, primarily through walking. His most recent art involves collecting specific data on each walk and then translating his findings and data into paintings. These paintings depict not only the activity of walking and painting, but also explore concepts of time and distance. It is these spatial, temporal, and mobile qualities of his work that make Luke M Walker's work perfect for Bankside. Each body of his work questions the value of human activity, human stewardship of the environment, the role of the artist as a witness, and how these things can be expressed and explored.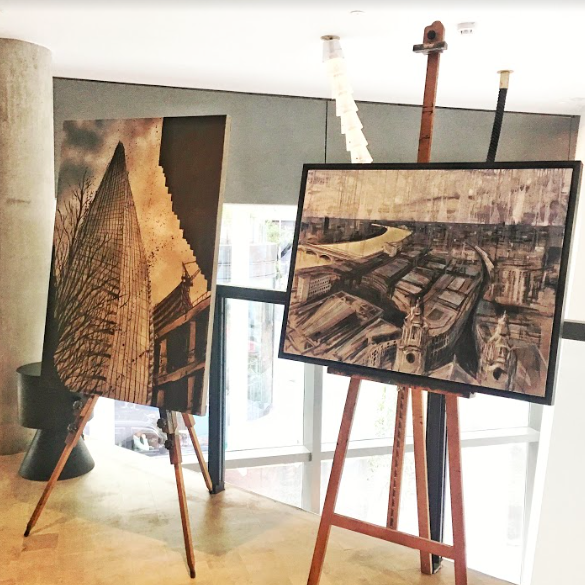 Luke will be helping Bankside Hotel achieve their goal of engaging guests in a one-of-a-kind artistic experience. The hotel is keen to involve their guests and visitors in a programme of events through exhibitions, talks, workshops, and events. The hotel's love of art and design and interest in sustainability and Luke M Walker's unique creative process make this partnership a perfect match. Here at the gallery, we will continue to cherish the partnership and give our artists all the support they need to make the residency an integral part of their success in their art career, while helping Bankside Hotel's give their guests a truly original experience.
---
View Luke M Walker's Full Portfolio
Learn more about Bankside Hotel
For further information please contact us at marketing@artellite.co.uk