Ewelina Skowronska
University of the Arts London (Master of Arts , 2015)
Visual artist (b. 1980 in Poland, currently lives and works in Tokyo). After having an accomplished career in advertising, Ewelina decided to fully dedicate herself to art in 2013. She retrained and specialised in visual arts at University of The Arts London where she graduated with distinction in 2015.
Female body is at the forefront of Ewelina's prints and ceramic sculptures. She moves away from showing it as a finite whole, instead expressing it through a sense of space and fluidity, producing a distinctive vision of feminine physicality. Through exploration of the fundamentals of colour, form, lines and negative space, she focuses on ephemeral and unspoken aspects, using a combination of different printing techniques to produce a unique and powerful contrast. By exploring the interplay between nudity and carnality, she creates images on the edge of the figurative and abstract.
Ewelina's work has been exhibited in London, Ireland, USA, Canada, Poland, and Japan. In 2017, she was awarded the Print Prize by ST Bridge Foundation, and in 2018 she was shortlisted for Ashurst Emerging Artist Prize 2018. Her prints are in the collection of VA Museum London; Spiral Wacoal Art Foundation, Tokyo, Japan; Guanlan Printmaking Museum, China and many more.
+ Expand to read more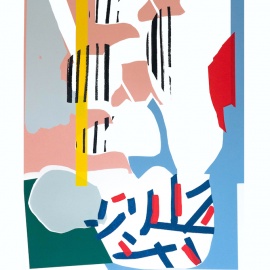 Awards
| | | | |
| --- | --- | --- | --- |
| Print Prize by | ST Bridge Foundation | Winner | Mon, 10/01/2018 |
Press
| Publication Title | Job Title | Date |
| --- | --- | --- |
| People of prints | EWELINA SKOWRONSKA — INNER MOMENTS | Thu, 10/01/2020 |
| www.booooooom.com | Artist Spotlight: Ewelina Skowronska | Thu, 10/01/2020 |
| Create Mag | Prints by Ewelina Skowronska | Thu, 10/01/2020 |
| Lula Mag | Prints inspired by the lost language of ancient Greek poets | Mon, 07/27/2020 |
| Bijutsutecho | 逸文 itsubun - Fragments of beauty | Thu, 07/23/2020 |
| Warsaw Today | Redefining standards – Polish artist in Tokyo | Mon, 03/30/2020 |