Lizzie D'Alessandri
University of the Arts London (BA (Hons) Fine Art: Painting , 2018)
Lizzie D'Alessandri is a portrait artist hailing from Essex. She graduated from University of the Arts London and Wimbledon College of Art with an education in Fine Art. Lizzie D'Alessandri specialises in portrait paintings, using  primarily oil paint, and has a main focus on head shots. She prevents herself from copying the original photograph but instead has keen interest in the skills and techniques used to be able to create a photographic reference. 
The ideas around her current work focus on religion and have risen after suffering from ill health last year, she says,  
"This is the first time where I've felt a different level of emotion in connection to my work. The work is a play on what religion is and what it has meant to me over the past year of my life and what it continues to mean. Whilst in hospital I began to think about the idea of believing in God or a God and what that involves. Religion is commonly seen with a God, that is aesthetically a physical form or 'person', but I was questioning myself as to why I couldn't find that physical being in myself, in something I enjoy doing or someone else."
Along with her family, Lizzie D'Alessandri's friends around her at the time became her support network and she confided in them when she had difficulties or needed help. She then recognised that people who follow their own faith confide in their God and that's when she realised she was undertaking the same process but within the relationship that she shares with friends. In devotion to them, she is creating a triptych, in the style of definitive and classical religious paintings, she has drawn inspiration from the Baroque period, artists such as Caravaggio but also contemporary painters such as Maria Kreyn and Michaël Borremans, this triptych is a devotional painting to recognise these women. 
The artist points out that many religious figures in the Christian Bible are male, with the predominant female figure being The Virgin Mary. With her work, she aims to portray these women who she admires at the forefront where normally a masculine form would be depicted, she sees these women as strong and inspirational in their own right, and she wanted to acknowledge them.
Lizzie D'Alessandri uses photographic references alongside her work, but she sees the figure as a collection of tones and colour that she subjectively reproduce, however, she does not see her work as a mechanical reproduction of the figure, as close up the viewer can see brushstrokes and humanity. This is fundamental to her practice. 
+ Expand to read more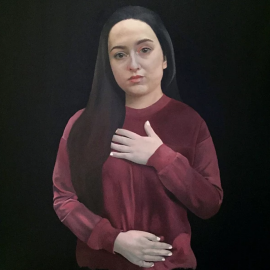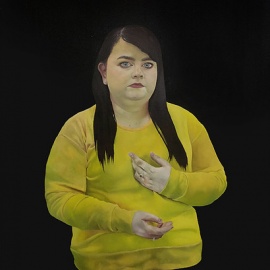 Awards
| | | | |
| --- | --- | --- | --- |
| The Signature Art Prize | The Signature Art Prize | Nominated For | Thu, 11/15/2018 |
| Lynn Painter-Stainers Scholarship | Lynn Painter-Stainers | Nominated For | Sun, 06/05/2016 |