Mark Worrall
Camberwell College of Arts (BA Painting, 2008 )
My work creates a painting effect that gives the impression of 3D and appears raised from the canvas  trompe l'oeil, When you look at my work and walk towards or away from it the eye creates an illusion of movement.
My rules when working :
I do not measure the distances between each line drawn.
Although mixed the colours I use are not developed to see how they react next to one another before using them.
The order of colour is not pre planed in any way, I am interested in colour relationships and how colours react when placed next to each other.
When painting the lines I do them in the strict order e.g. red, yellow and blue repeatedly going around till I meet the line before the starting point.
As I do not know at the start if the colours will match up, the order could finish out of sequence.
People who have viewed my work have given me a number of different view points :
One said it had " A mesmeric hypnotic quality making their eyes dance, challenging there senses".
Another said my work was "reminiscent of energy fields, like patterns of iron filings around a magnet".
+ Expand to read more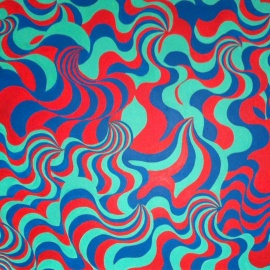 Exhibitions
2008 - Camberwell Collage of Arts Degree show, Camberwell Collage of Arts London 2009 - ASC open studio Show July 2010 - Summer Exhibition , Vitriine Gallery, Bermondsey Square London SE1. 2012 - Bending Colour, Solo Exibition, The Elms, Worcester. 1st March 2012 - group show " IT IS GREEN" Cultivate Gallery, Vyner Street.
Awards
2011 Signature art Awards, Painting