Sarah Dennis
University of the West of England (University Of West Of England , 2013)
Sarah Dennis is a freelance illustrator and artist living in Bristol. Growing up in the heart of Sussex, she spent much of her childhood life drawing and experimenting with art. Sarah took her first steps into becoming an aspiring artist by completing a foundation course in art and design at Brighton City College. Sarah has always been influenced by storytelling, drawing inspiration from her Grandfather's collection of old books and Japanese artwork. She has always possessed a strong desire to create a world of her own, fueled buy nature, animation and personal experience.
Sarah completed a degree in illustration in 2008 at the University of The West of England, where she developed her drawing and applied her skills to children's books, editorials, designs and animations. 
Her work now combines traditional scherenschnitte (paper cutting) with collage. Sarah's work exemplifies the beauty of nature in fairy tales and whimsical childhood dreams, telling classic poems and folk tales through the medium of paper. Each piece is individually hand-cut using a craft knife to reveal exquisite, delicate detail within the illustration.
Sarah works as a full time artist and illustrator, not limiting herself to any one type project she takes on a variety of work as well as welcoming individual request on bespoke, hand-crafted artwork.
+ Expand to read more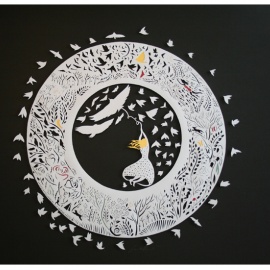 Exhibitions
2014-"Holiday Home" Drawn in Bristol Date: 9th to 21st June- No1 Harbourside: Please visit the Event page. 2014- paper-cut show- Spoke gallery- San Francisco 2014- One thousand Cranes- Oxford 2013- Stamped & Mailed, GroundSwell Gallery- Denvor 2013- Waves of change -Hasted Kraeutler Gallery - New York 2013- 26-28 April 2013 AAF Bristol 2012- The glass room Colston Hall-Bristol 2012-Soma Gallery-Christmas Show-Bristol 2012-AAF Battersea- London 2012-Cambridge contemporary art 2012-Rostra Gallery- Rock Paper Scissors-Bath 2012-Le Garage Gallery-Tales from a pea green boat- London 2011-Prema-Solo Exhibition- Gloucestershire 2011-Here and Now Gallery-Solo Exhibition-Cornwall 2011-East Gallery-Inkygoodness-London Group exhibition- inkygoodness 2010- Start Gallery-Group Exhibition-Bristol 2010-Here Gallery-Solo Exhibition- Bristol 2010-Start Gallery, Dream boat -Bristol 2010-The Shop-Solo Exhibition